If you're looking for a way to make some extra money online, selling private label rights planners could be a great option for you. By reselling PLR planners, you can make a profit while providing valuable resources to your customers.
There are a lot of people out there who are looking for high-quality planners that they can use to help organize their lives. If you can find a good source for private label rights planners, you can resell them and make a nice profit.
As an online entrepreneur, it's always a good idea to be looking for new ways to make money. It's important to remember that when you're reselling private label rights planners, you need to make sure that you're providing value to your customers.
Don't just sell them a generic planner – make sure that you're offering something that will help them in their everyday lives. If you can do that, you'll be able to find plenty of customers who are willing to pay you for your planners.
In this blog post, we'll give you some tips on how to get started reselling PLR planners.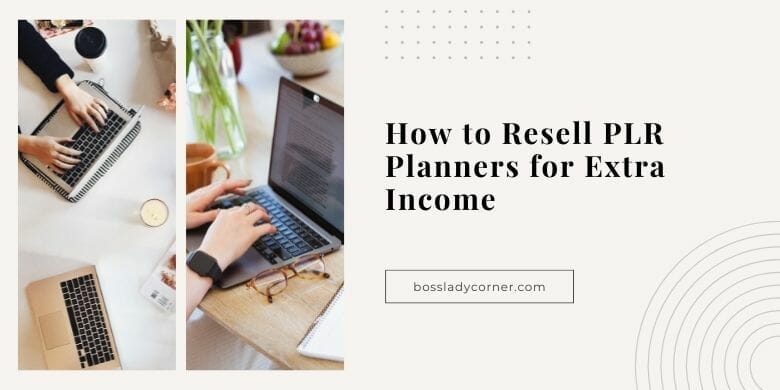 Selling on Marketplaces
Depending on where you are in your online business journey, you will choose different ways to sell these planners or journals. If you are a stay-at-home mom who has just started looking at different ways to make money online, you may not have a blog or an online presence. (That was me a few years ago, by the way!) 
I wanted an easy way to sell something online to make an extra income. This was when I chanced on Amazon Kindle Direct Publishing (KDP) and Etsy. Both are relatively easy marketplaces to start selling.
Amazon KDP is a print-on-demand platform which enables anyone to self-publish a paperback or hardcover book or even an ebook online. If you are re-selling PLR planners, these would usually be printed books. 
Etsy is another marketplace which originally served the handmade crafters industry. It has since evolved to also sell digital products online. 
If you are a blogger or a coach who has been online for a while now, these marketplaces are excellent for you to broaden your reach, capitalise on their scale and re-direct those traffic back to your website or blog. You will also have a lot more credibility if you are a published author on Amazon. 
Pros of Marketplaces
The pros of marketplaces is undoubtedly the in-build traffic. Amazon is the world's largest online retailer. The KDP business being part of the Amazon business means that customers enjoy Prime Delivery as well. That is a huge advantage that not many retailers will be able to provide.  
Etsy, on the other hand, also enjoys great in-build traffic within its ecosystem. Customers tend to prefer to shop small and support indie designers and crafters. 
Cons of Marketplaces
The downside to these marketplaces is their extensive terms and regulations. Both platforms do not allow Public Domain or Private Label Rights Products. (I am loosely para-pharasing here as I would be writing a book if I were to go into details here.)
Essentially with KDP, they do not want duplicate content as that results in a very poor customer experience for Amazon's customers. Yes, people who buys your books on KDP are Amazon's customers and not your customers. By nature of PLR products, they tend to be "duplicated products".
With Etsy, it originated as a handmade crafters platform and they have stayed true to their identity. Etsy requires products that you sell on their marketplace to be fully created by you as the seller. Again, this tends to contradict the nature of private label rights products. 
So why I am recommending these 2 marketplaces to you? 
This is because these 2 marketplaces are the easier places for you to get started with selling a product online where you do not need to worry about traffic. You can focus on creating the product and selling it. If you do not have a blog or a website, then marketplaces are the best place to start. 
Open your Etsy shop with 40 free listings using this link. 
Adhering to the Rules of the Marketplaces
So how do we get around the rules of these platforms?
If you look at any standard yearly planner, you will noticed that it has very similar spreads such as yearly calendar, monthly calendar, weekly calendar and so on. There are so many brands of planners out there that it would be impossible for me to name them all. Yet, every planner has their group of raving customers. 
Customizing PLR Planners
This is where we as buyers of PLR planners come in. Learning to customize these planners for a specific niche audience is key to delivering the value I mentioned above.
Instead of selling an allergy planner, niche down and target the breastfeeding moms subniche. If you are a health coach or a nutritionist, you will be able to appreciate this. It is extremely tedious and tiring for a breastfeeding mom to figure out what is the food that is causing an allergic reaction in their babies. 
As a new mom, who is sleep deprived and still learning how to care for their baby, most are clueless as to how to identify the allergen, not to mention decipher allergy tests results. When you are able to provide value at this level, watch how your sales will take off. Passive income will no longer be a dream. 
Selling Directly on Your Website
If you are an experienced online business owner or blogger, congratulations because you have the option to sell directly on your website with WooCommerce, Shopify or Payhip. There are so many other options but these 3 are probably the easiest for most of us. If you do not have a website and do not want to sell on marketplaces, then you need Send Owl. This allows you to sell anywhere where you can paste a link. 
Selling directly on your website means that there are no marketplace rules to conform with. All you need to be aware of is the PLR license of the product that you bought. This will usually be provided for you via the seller of the PLR Planner. 
Depending on your niche and audience, there are so many products that you can re-sell on your website today. I highly encourage you to customise the product in terms of your brand colors and fonts especially if you are a coach. 
If you have a website but you are not monetizing with digital products, please start today! Drop me a comment if you have any questions about how to start or what to sell. 
If you are ready to add more products to your shop, check out the range of PLR planners in our shop today. Don't forget you can sign up to our newsletter and get a 20% off discount code for your first purchase.